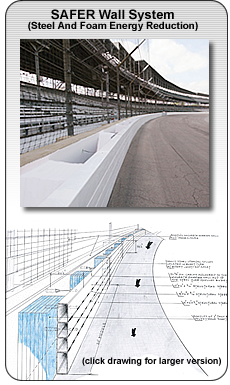 The Steel and Foam Energy Reduction (SAFER) Barrier System was designed to absorb and reduce kinectic energy during the impact of an accident and lessen driver injury. It was first installed at the Indianapolis Motor Speedway in 2002.
The SAFER Barrier has the following patents:
Faller, R.K., Sicking, D.L., Rohde, J.R., Reid, J.D., Keller, E.A., Bielenberg, R.W., Holloway, J.C., Addink, K.H., and Polivka, K.A., U.S. Patent No. 6,926,461 B1, August 9, 2005.
Faller, R.K., Rohde, J.R., Sicking, D.L., Bielenberg, R.W., Reid, J.D., Holloway, J.C., and Polivka, K.A., U.S. Patent No. 7,410,320 B2, August 12, 2008.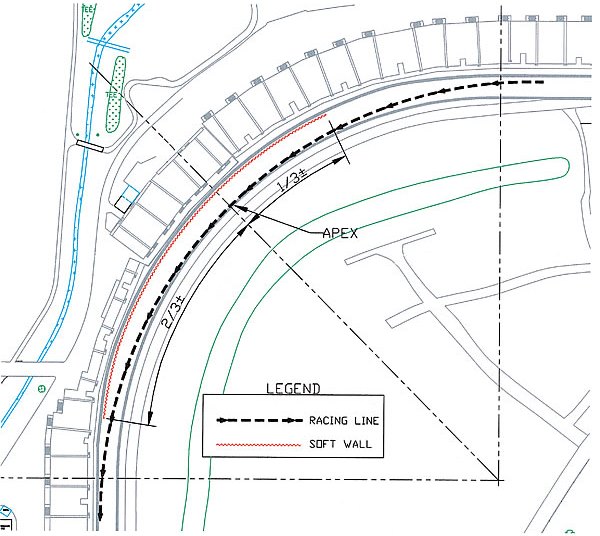 Rectangular structural steel tubes are stacked vertically and welded together to form unified modules 20 feet in length and 38-1/2 inches high. All Steel components are galvanized, and the track face of the steel tube modules are painted to match the existing concrete barrier wall.

Individual steel tube modules are joined together by heavy steel internal splices, located within each tube on either side of the joint, a continuous, uninterrupted wall is created. These internal splices are designed to be unbolted and disengaged from the joint so that any one (or more) modules may be quickly removed and replaced in case of damage resulting after an impact.

Bundles of extruded, closed cell polystyrene, which provide much of the system's energy management, are placed between the rigid concrete barrier wall and the stell tubes every 10 feet.

Three 3/8-inch diameter cables, which retain the steel tubes alignment with the concrete barrier wall, are placed every 10 feet.
^ Top